EVERY CUSTOMERS SPECIFIC NEEDS ARE DIFFERENT. EACH PRODUCT IS UNIQUE WITH VARIABILITIES THAT REQUIRE A KEEN ATTENTION TO DETAIL. TO PROVIDE THE BEST SERVICE POSSIBLE, WE RECOMMEND FOLLOWING OUR tolling launch board.
a mutually protective non-disclosure agreement.
It is important to us to protect the intellectual property of our customers. an nda establishes immediate trust that we will protect the information we're provided.
material lists and analyses


TO UNDERSTAND tHE CHARACTERISTICS OF THE FINAL PRODUCT, WE MUST FIRST UNDERSTAND THE RAW MATERIALS. THE ANALYSIS OF THIS INFORMATION WILL ALLOW US TO DEVELOP GRANULATION SPECIFICATIONS THAT ALLOW FOR HIGHER YIELDS AND A MORE CONSISTENT FINAL PRODUCT.  tHIS OFTEN INCLUDES SDS SHEETS, CHEMICAL COMPOSITION, RAW MATERIAL LOGISTICS.

 GOAL CONSULT


wE UNDERTSAND THE IMPORTANCE OF HAVING A PRODUCT READY WHEN IT IS NEEDED. THIS MEETING WILL DETERMINE THE PRODUCTION CAPACITY, and DATE OF DELIVERY.

FEASIBILITY STUDY/BENCH SCALE TESTING 


feasibility studies allow us to run tests at a small scale to understand the nuances of granulating your product. this step can help us identify potential issues that can effect yield and forecast accurate production rates.
ocne complete, we can finalize the engineering requirement to take the lab scale test to a larger production capacity. Following these steps will allow us to deliver the best final product.
renovo is gMp FOOD SAfety audited. this important certification allows us to work with food products or products that come in contact with food.
this unique feature we bring to the toll manufacturing space allows us to serve specialty clients that may have otherwise had no options.
contact us to learn more about how we can assit you on your next product.
At RENOVO, we utilize a proprietary manufacturing process that allows us to densify and enrich fertilizer products with various inputs ranging from plant nutrients, organic matter, micronutrients, BIOSTIMULANTS, biology. This allows us to build and craft a variety of products for clients with the specificity of individual situations
We have special experience with Biochar. BIOCHAR is the result of heating green waste (grasses, wood chips, compost, biosolids, litters) at high temperatures in an oxygen-free environment. This reaction, known as pyrolysis, burns the lignins, carbohydrates, proteins, lipids, etc, leaving behind porous carbon structures.
Biochar is rated on the concentration of the remaining carbon after the burn. RENOVO HAS ACCESS TO MULTIPLE single BIOMASS sourceS, temperature specific, high carbon biochar: hardwood biochar pyrolized at low to high temperatures (250C-1200C). Our biochar specificity allows for capturing specific characteristics, such as a balanced cation exchance capacity in relationship to an anion exchange capacity.
Tall fescue established using RENOVO fertilizer application vs. popular competitive liquid fertilizer.
18-18-8 vs 16-24-2 each applied @ .54lbs P
Seed & Fertilizer: October 2019
Photo taken: March 2020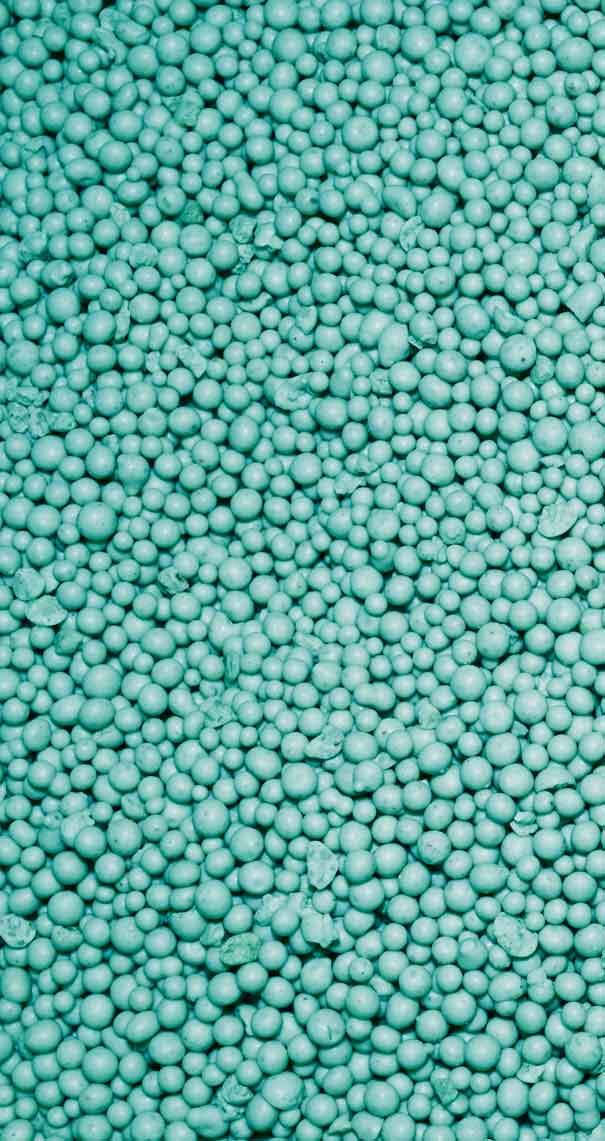 Our unique experience in developing granulation methods to produce marketable, effective, and valuable upcycling of waste streams allows us to consult and often integrate a sustainability component to our clients' products.
With a rich history of improving product performance through the utilization of waste streams, you can feel confident consulting with our team of product developers will deliver an unmatchable finished good.
We understand innovation.
Let our team of product consultants work with you to guarantee the finished result is the absolute best product for the market.